Welcome! The Christ Church Guilford Society, Inc., a federally-recognized 501(c)(3) nonprofit, was formed to care for and preserve the historic 1817 church structure. The Society's Board of Directors, comprised of dedicated volunteers from Guilford and the surrounding area, seeks to make the building and its grounds available to the community for a variety of educational, cultural, religious and social justice events and initiatives.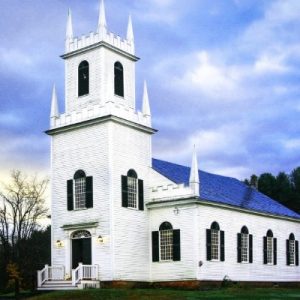 Christ Church Guilford Society takes seriously our commitment not only to our beautiful physical space but also to the goal of raising awareness of the land and the Native peoples who have tended this land long before white European settlement; we are grateful that members of the Abenaki "People of the Dawn" tribe are still our neighbors.
Learn more about our Abenaki heritage, our building and grounds, how to reach out to us if you would like to use our space, how to support our work financially, how to volunteer your time, how to contact us for other reasons, and to see our news and past events. Check here for directions and information on visiting the church.