[Original press release from 2017]
Guilford, Vt. — Guilford's historic Christ Church, at the corner of Rt. 5 and Melendy Hill Rd., is celebrating its 200th birthday this year with a Benefit Concert and Silent Auction. Festivities begin at 3:00 p.m. on Sunday, August 19. Proceeds will provide critical funding for the Christ Church Guilford Society to maintain and improve the building, which has not had a resident congregation since the 1890s.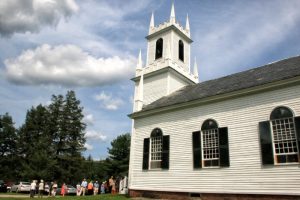 Internationally renowned instrumentalists Jaime Laredo and Lucy Chapman, violin; Kim Kashkashian, viola; Merry Peckham and Sharon Robinson, cello; and James Winn, flute, will share the stage with Ellen McCulloch-Lovell, who has written a commemorative poem for the occasion. The musical program includes Luigi Boccherini's Sonata in C Major for Two Celli; selections from György Kurtág's Signs, Games, and Messages for solo viola; Mozart's Quartet in C Major for flute, violin, viola, and cello; Andy Stein's Suite for Two for Violin and Cello; and Boccherini's String Quintet in E Major, op. 13, no. 5.
Poet and writer Ellen McCulloch-Lovell was president of Marlboro College from 2004 through 2015. She served as chief-of-staff to Vermont senator Patrick Leahy for ten years, and is Rock Point Legacy Minister of the Episcopal Diocese of Vermont. Her husband, Christopher Lovell, has deep roots in Guilford, going back to the late 18th century, when Joseph Allen Lovell lived there and married Lucy Carpenter.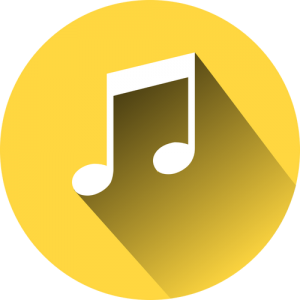 Performing for over six decades before audiences across the globe, Jaime Laredo has excelled in multiple roles of soloist, conductor, recitalist, pedagogue, and chamber musician. He is musical director of the Vermont Symphony Orchestra and the New York String Orchestra Seminar at Carnegie Hall. He and his wife, cellist Sharon Robinson, recently premiered Pas de Deux, a new double concerto composed for them by Chris Brubeck.
Residents of Guilford since 1985, Robinson and Laredo are artistic advisors to the Brattleboro Music Center. Sharon teaches cello at the Cleveland Institute of Music and is director of its Advanced Piano Trio Program. She enjoys working with today's composers and is especially grateful to perform with the Kalichstein-Laredo-Robinson Trio.
Kim Kashkashian is recognized internationally for her unique voice as a violist. She has received a Grammy Award, the Edison Prize, and a Cannes Classical Award. A teacher of viola and chamber music at the New England Conservatory, she is a founding member of Music for Food, an initiative by musicians to fight hunger.
Cellist Merry Peckham maintains an active career as a performer and teacher. As a founding member of the Cavani String Quartet, a position she held for thirty-two years, she performed thousands of concerts in the U.S. and abroad, and was honored with the Naumburg Chamber Music Award. She is currently chair of Chamber Music at the New England Conservatory and associate director of the Perlman Music Program.
For many of the past twenty years, while teaching at the New England Conservatory, Lucy Chapman also served as chair of its Chamber Music and/or Strings program. Frequent summers since 1973 were spent at the Marlboro Music Festival, and in 2017 she moved to Vermont full-time. She now continues to perform and teach while maintaining a busy schedule as Grandmother in Residence for her daughter's organic farm in Guilford, the Hermit Thrush Homestead.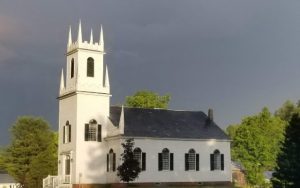 James A. Winn has performed as a soloist with the Louisville Orchestra, the Princeton University Orchestra, the Yale Symphony, and the Aberdeen Symphony, and has made recordings for the Musical Heritage Society and CRI. Recitals with keyboard artists have included live radio broadcasts on WQXR/New York and WGBH/Boston, frequent appearances in the New York and Boston areas, and performances in Illinois, Michigan, California, Texas, England, and Scotland.
Following the gala concert on August 19, an elegant reception and silent auction—featuring getaways, dinners, original paintings and fine crafts by area artisans, other special items and gift certificates—will follow on the lawn of Christ Church. In the event of inclement weather, these post-concert festivities will move to Guilford Community Church nearby.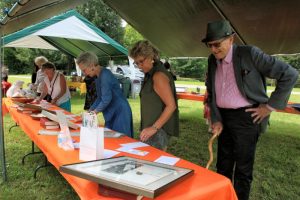 Guilford was the largest town in Vermont when Christ Church was built in 1817 using blueprints from its twin, an Episcopal church in Greenfield, Mass., now no longer standing. The first service in the building was held the following year. Although the Christ Church congregation declined steadily as the population center gravitated to nearby Brattleboro, the building was never deconsecrated and is now owned by the Episcopal Archdiocese of Vermont.
In 1950 an offer was received to dismantle and move the church to the Shelburne Museum, founded in 1948 in northern Vermont, but the town rallied to keep the iconic structure intact and in place. Today it is the site of occasional weddings and funerals, a few worship services hosted each season by daughter church St. Michael's Episcopal of Brattleboro, and forty-five annual holiday programs to date by Friends of Music at Guilford. In addition to rental fees or shared proceeds from these activities, periodic fundraising concerts have been an important source of support over the years.
Two hundred seats are available for this bicentennial fundraiser at Christ Church, which is not fully handicap-accessible. Gala tickets at $25 each are for sale at Guilford Free Library in Guilford Center and at Everyone's Books on Elliot St. in Brattleboro. For further information, to purchase tickets by mail, or to make a general donation of support, contact Anne Montgomery at amontgomery1254@gmail.com or (802) 257-2636. Promotional support for this event is provided by the Vermont Arts 2018 program of the Vermont Arts Council and by Vermont Public Radio. Anson Baldwin Tree Care of Vernon, Vt., is a corporate sponsor.