In January 2023, the Christ Church Guilford Society, Inc., was awarded a $20,000 matching grant by the Vermont Division of Historic Preservation to make necessary repairs to the roof. We were very proud that this is the highest level awarded by VDHP. The repairs are essential in order to make the building safe once again for indoor events.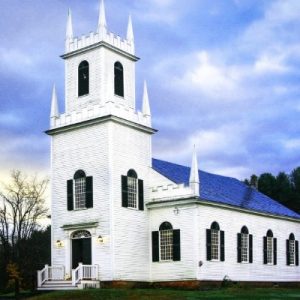 The Board of Directors immediately undertook a number of fundraising initiatives to ensure the match, including forming a Summer Events Task Force to plan events that could take place outdoors. Our initial event on June 1st featured the Brattleboro Union High School Jazz Band and honored retiring Band Director Steve Rice. Many people assisted with the planning, and we were able to collaborate with area friends such as the Guilford Country Store, Eric Morse, the Marina Restaurant, and parishioners from St. Michael's Episcopal Church in Brattleboro. The tent for the performers was on loan from St. Michael's and was erected by a dedicated team. The concert was a great success, and the weather was perfect.
We then scheduled an outdoor concert by the local Celebration Brass Band for Sunday, July 16. Alas, as we all know, the rains came. The Task Force and Board wrestled for several days trying to decide whether to cancel, which we did not want to do. But in the end it was the right decision, even though it meant lots of email correspondence, taking down two tents, and finding a new date for the concert.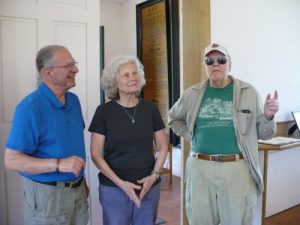 In the meantime, an Open House and fundraiser was held in August in a private home that is on the National Register of Historic Places. Attendees greatly enjoyed themselves, and we received several generous donations. The Board also secured a loan and grant from the Episcopal Diocese of Vermont; signed a contract for the initial roof repairs, to be done by early November; held a brainstorming session to discuss priorities going forward; dealt with grounds issues and arranged for dead trees to be removed; constructed a new sign for the property; created a Legacy Society for donors who wish to name Christ Church in their estate plans; and researched and applied for other grant support.
We looked forward with great anticipation to a rescheduled Celebration Brass Band concert on Sunday, September 10. Arrangements were made once again for signage, restroom access, publicity, and refreshments, and the "tent team" was all set to erect the tent several days in advance. But, once again, the weather reports looked grim, with multiple thunderstorms in the forecast (not to mention the heat wave). More email flurries ensued over a 48-hour period as we considered alternatives, but in consultation with the Band, the Board regrettably made the difficult decision to cancel. (As it turned out, the weather was cloudy – no rain.)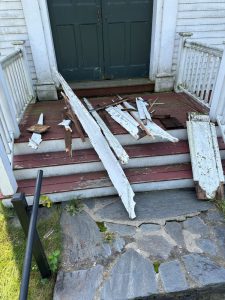 BUT… we soon learned that the building was struck by lightning on Friday evening, September 8. Fortunately, no one was hurt, but there was structural damage. Several friends of Christ Church cleaned up the debris (including pieces of wood that had planted themselves in the grass!), and we are in discussions with our insurance company, contractors and others.
Before the lightning strike, we were preparing to submit additional grant applications, with the goal of funding further repairs to the roof, related architectural elements and interior ceiling repairs. We will continue these pursuits! We are committed to fulfilling the Society's mandate to preserve, care for and maintain the building and grounds. And we still very much want to be able to open the building for events as soon as we can.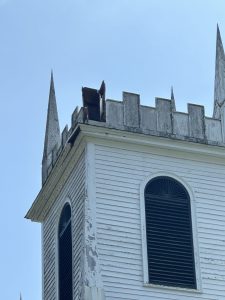 The Board and Task Force are very grateful for everyone's support – and your understanding with our challenges. If you are able, please check us out; we are a 501(c)(3) nonprofit, so donations are tax-deductible. Thank you very much for your generosity!
VA 9/11/23